Ryohei Kido's Chests in the Old Style
Inspired by the Mechanisms of Old Wooden Chests
Before Ryohei Kido was a traditional furniture maker, he was a newspaper journalist. The reason he came to abandon the security of a salaried employee's life and become an artisan began with a fascination for the traditional performing arts of Iwate Prefecture. It was these that drew him to give up his first job so he could live in Iwate close to the music he loved. He now plays flute for the traditional festival dances using instruments he made himself from thin bamboo.

In Iwate, Kido worked for four years as a reporter for the Iwate Nippo newspaper and then made his break with journalism to apprentice himself to a renowned craftsman specializing in Shizukuishi wooden mosaic work, Yoshio Yotsuya. But only three months afterwards Yotsuya passed away. With nothing better to do, Kido enrolled at a technical centre to study the basics of wood working. Meanwhile, the owner of an antique shop in Hanamaki gave him the job of repairing old tansu (Japanese chests). So it was that while working on old pieces of furniture, Kido learned how to construct and finish tansu by himself. He remembers that he was always top of the class in art and craft subjects at school, and looking at the tansu he constructs now, it is very clear that he is a natural when it comes to making things by hand.

Kido may not have been raised as a traditional craftsman but somehow he has come to acquire all of the qualities required of the artisan - curiosity, the ability to see straight and judge well and to follow his instincts, the ability to learn from experience, and to never be afraid to try.

For Kido, everything had to be learned from scratch: he forges all his own metal fittings though at first he did not even know how to get the fire hot enough to melt the iron. Similarly he acquired lacquering skills through a process of trial and error after watching a professional lacquerer only once. His path has never been one of studying from books, but always one of personal trial and discovery.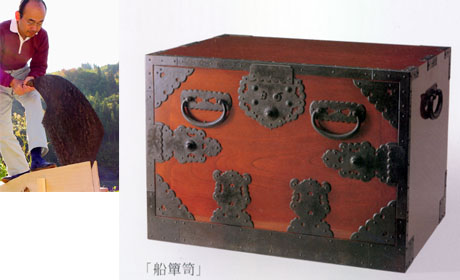 "Ship Chests" and their Tricks

One of the more interesting tansu ever to be made in Japan was the funa-dansu (ship chest) which was in fact an early type of safe. Funa-dansu were frequently used to transport large amounts of money on the kitamae-bune ships, which plied the seas carrying goods from one part of Japan to the other. The boxes had to be strong and they had to be made so that only the owner could gain access. Moreover the inner compartment needed to be watertight to keep the contents safe should the ship sink. For this reason the inner compartments were always made from paulownia, while the outsides were of beautifully grained zelkova. A funa-dansu is typically further encased in intricately detailed metal fittings, which not only add strength but beauty.

In any one of Mr Kido's funa-dansu one can find 300 different wooden pieces and 300 to 500 hand-forged nails. In addition, each comes with five different keys. Mr Kido says that even now, when he is quite used to hand forging nails, he can still only manage 100 a day. He makes his nails thinking about any person who might be repairing one of his chests 200 years from now "I don't want them thinking 'What poorly made nails!'" he says. This is the level of pride that informs his work.

Kido is quite happy to show me the tricks mechanisms employed in the funa-dansu locks and compartments. First he uses the keys and concealed pulls to empty the box of all its drawers. He then challenges me to find more hidden places. I stick my head inside the box but there is not a crack or a seam that I can see which could conceivably act as an opening for any more compartments. Unbelievably, Kido triumphantly opens two more compartments, amazing me with the cleverness and technical precision of his work.

 

If Only There Were More Hours In a Day

It is not an easy matter to achieve the level of finish Kido requires of himself - especially since he is single-handedly performs the tasks of at least four separate specialized craftsmen - saw miller, cabinetmaker, lacquerer and forger. He dries the timber, rough hews it, measures and cuts it to length, shaves it smooth, puts it together, coats it with lacquer many times, and forges the metal pieces all by himself. One would think that when the pressure was on to complete a piece of furniture for an order that he would consider cutting a few corners. But there in Kido's workshop in large letters so he will never forget are the words DO NOT CUT CORNERS!

Naturally when one is as thorough as Kido, output is rather low. He estimates it takes him two years to complete one funa-dansu. I suppose, when you think that the average funa-dansu lasts 200-300 years, two years is not long to wait.

One of Kido's recent works is a non-traditional chest in which the lacquered hand-hewn surface of the wood with its random markings is retained as a feature. It is made entirely without nails and if necessary could be pulled apart by hand. It is simple, modern and with the warmth of being hand-made would make a beautiful addition to a modern white-walled interior. The metal fittings are all hand made. Mr Kido does not require quite so much time to make this kind of chest and it can be purchased for 280,000 yen.

 

A Stool To Help You Sit On Your Knees

Most of today's generation of Japanese has grown up sitting on chairs at tables and I would guess that many are not able to sit on the floor on their knees in the formal style for long. Mr Kido has created a light and attractive stool for sitting formally on the floor. It is made up of three parts which you can be put together easily and is carried around discreetly in a handmade drawstring bag. Four different heights are available. This stool is very good for long funerals at temples or for when one is invited to a tea ceremony or a meal at a traditional tatami-floor restaurant.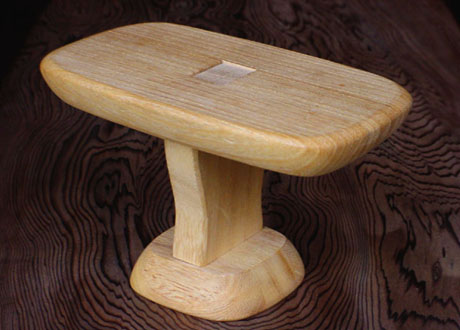 Mr Kido's stools almost looks too delicate to carry a person's full weight, but he has not received any complaints of collapses yet! We have chosen this product of Mr Kido's to introduce in our "Shopping" page.