THE JOY OF TRADITIONAL JAPANESE BOOK BINDING
by Book Binder Tsugio Fukawa



In this feature we look at one-of-a-kind books made by hand using traditional Japanese binding techniques. Perhaps they are better described as notebooks than real books, but whatever you call them, they make a beautiful way to keep such things as collections of favorite postcards, greeting cards, unusual stamps, wine bottle labels, tickets collected on overseas trips, pressed flowers, sketches... photos of your cat- any of those little bits and pieces you just have not had the heart to throw away. They make elegant visitors' books or address books, too, or, if you are a poet, a special place to jot down your verse.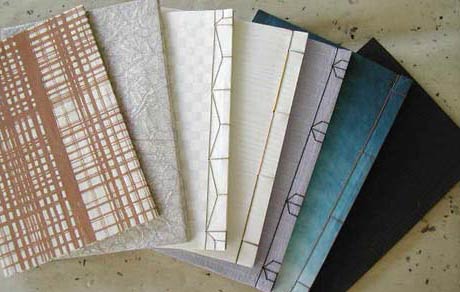 A variety of binding styles including "4-hole,"and "hemp leaf".
Tsugio Fukawa is a devotee of traditional Japanese book binding. From his light-hearted way of speaking you would not guess that he had devoted most of his life to the serious business of education, working at one time or another as a school principal and university lecturer. He has also filled the post of secretary to a prestigious calligraphy research association.

Mr Fukawa grew up in tough post-WWII times when paper was scarce. He remembers binding together the flyers inserted into newspapers to use the blank sides for notepaper and thinks this may have been what first sparked his interest in book binding. He started taking a serious interest in the craft when he was at university. There he discovered a rare 1941 volume on traditional binding. He was allowed to borrow it for only three days, but managed to photograph every page so that he could teach himself how to make books. He learned a variety of binding styles from the classic "4-point," to the "turtle shell" and "hemp leaf" and as a result of once making a mistake with the placement of a binding hole, stumbled upon the possibility of his own alternative styles. Now he will say that the variations are unlimited.

A cover made using hand-dyed and woven fabric by Okinawa textile artist Michiko Uehara.
What are the origins of Japanese binding? Here is an extract from his book:「The oldest Japanese book was an early 7th-century treatise on the Lotus Sutra by Prince Shotoku in hand-scroll form. Many improvements followed from the Nara Period resulting in a variety of book styles and culminating in the sutra copy books and illustrated hand scrolls of the Heian Period which were works of art no less amazing than the illuminated books of Mediaeval Europe. The form of Japanese books evolved from the hand-scrolls of the Nara Period to fold-out books in the Heian Period and these further evolved into the Decho style in which sheets of paper folded in two were stacked on top of each other and the folded edges were then glued to the part of the cover that formed the spine. Book-making techniques advanced along with developments in wood block printing technology and these reached their pinnacle in the Edo Period with the emergence of quite a diverse range of original Japanese binding styles, from "Yamato style" and 4-point binding to " turtle shell", and "hemp leaf," in addition to the so-called "Chinese-style" bound books. Book dimensions came to be determined by the standard sizes of paper being produced by the regional paper industries. The most common were the Mino books based on paper from the Mino district, Hanshi-bon employing the popular hanshi-sized sheet, plus standardized "mid-sized books," "small books" and "miniature books".

In addition to regular books, a variety of ledgers including the thick Daifuku-cho daily account books, the Hantori-cho receipt books, the Noriire-bon journals made of starched paper, and Tsu-cho bank books were all in common use up to the start of the Showa Period, being a mainstay of the town people's culture.・・・」
 
| | |
| --- | --- |
| Then came the advent of Western-style machine-binding which all but eclipsed the use of Japanese hand-bound books, now relegated to use by practitioners of the old traditional arts. Meanwhile the ledgers that used to be such a trademark of the Edo Period merchants were done away with and now have, of course, been totally displaced by computer accounting software. Even the 365-day calendar which, with its thick black writing, was a fixture in almost every Japanese household, has now all but disappeared. | A case for holding handmade books. Its cover is also bound in hemp fabric. |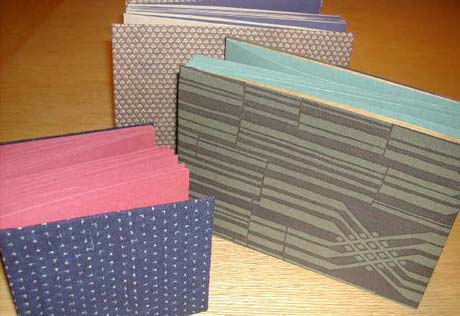 Folding book with a cover of antique fabric.
| | |
| --- | --- |
| Nevertheless, in these days, Fukawa advocates that we can in fact get a great deal of enjoyment out of using the traditional binding techniques to make personalized books that meet our individual tastes and needs. I tried making a couple for myself and can testify that even a novice can create something of beauty. Perhaps the trickiest part is getting all the pages to align perfectly. Another difficulty would come if you wanted to cover your books with a favorite fabric, since this really requires the skill of a professional scroll-mounter to back your chosen fabric with strong, handmade Japanese paper. |   |
When it comes to the threads used to sew the pages together, there are silk, cotton, and synthetics to choose from and these can change the appearance of the book depending on their color, thickness and tightness of their twist. These days you can also choose from a variety of machine made papers in addition to the handmade, depending on the use you wish to put your book to.
Mr Fukawa's guide to Japanese binding, "Hajimete no Wasoubon (My First Hand Made Book) by Bunka Publishing Co. is an easy-to-follow, detailed guide for anybody wanting to try the Fukawa style of Japanese binding.



| | |
| --- | --- |
|   | We have available a number of one-off books covered in beautiful handmade papers, rare fabrics, and lovely hand-woven and dyed textiles. The paper inside is all handmade, from the bamboo fiber paper of Fukui Prefecture to the beautiful Tosa paper of Kochi Prefecture. |