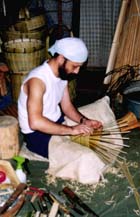 Biography
1963 Born in Nara Prefecture. Now resides in Oita Prefecture
1993 Received the Medal of Excellence at the 35th Japan Folk Crafts Exhibition.
1994 Selected for the Japan Folk Crafts Museum's New Work Exhibition
1996 Selected for the National Arts and Crafts Exhibition
1996 Awarded the Medal for Excellence in Techniques at the 38th Japan Folk Crafts
1996 Awarded the Folk Crafts Association Prize at the Japan Folk Crafts Museum Exhibition
1996 Solo exhibition, Kikuchi Folk Crafts in Kumamoto Prefecture
1997 Solo Exhibition, Beniya Folk Crafts Gallery in Tokyo
1998 Solo Exhibition, Hyugaji Folk Crafts Gallery in Miyazaki Prefecture
1998 Solo Exhibition, Yu Station in Aso Oguni-cho
1999 Participated in the Kyushu Handcraft Exhibition of the Kumamoto Prefectural Traditional Folk Crafts Center
1999 Participated in the "Handcrafts in Our Daily Lives Exhibition" for the 30th Anniversary of the Hyugaji Folk Crafts Gallery
1999 Solo Exhibition, Fudoki Gallery in Gumma Prefecture
1999 Solo Exhibition, Takenoko Cafe Gallery (Fukuoka)
1999 Participated in the Japan Folk Crafts Museum Exhibition

Tools used to cut bamboo: a hatchet made in Kumamoto Pref., a saw made in Niigata Pref. and a pair of backskin gloves made in Sweden.

After polishing the surface of the bamboo, set in a piece of fine bamboo and split into half

Making bamboo tapes
Making bamboo tapes with equal size by pulling it between the edges of two knives
A Message from the Craftsman
Since ancient times, history and experience have shaped the many objects and utensils used in daily life. Once, everything we made had a form that was both functional and beautiful, suggesting a true relationship between the two. Each object was made for a purpose, though some of those uses may now be lost in the past. They are not to be dismissed however—these objects that were made carefully in an age when there was ample time and plenty of ingenuity. Now they are being replaced by cheaply made, mass-produced things. The original purpose behind each utensil has almost been lost. Our way of life has changed, and with it our values. Appreciation for the sensitivity and modesty once found in our daily lives seems to have disappeared in an instant. The search for an economical lifestyle and the speed in which our busy lives pass by have made things valued in the past become meaningless. Having chosen bamboo basketry as a way of life, I have spent endless days trying to understand the fundamental differences between life in olden times and life in this modern age. Long ago, time was appreciated as it passed at a slow pace, and there was a definite reason for making bamboo baskets. In today's fast paced lifestyle, the kind of containers that have replaced them are not at all the same. Bamboo bark and bamboo baskets have the remarkable ability to preserve food by protecting it from bacteria. Food baskets (meshi-kago), placed in an airy place, will keep cooked rice from spoiling for a long time. Iriko baskets were indispensable and used by people living in the mountains to hang and preserve fishes and iriko (small dried fish). I chose to make these baskets, because they have an overwhelmingly significant purpose—preserving the foods that supplied the villagers with their main source of nutrition from the sea. Out of the perfect form for this purpose there is an unsurpassed kind of natural beauty. At first, I approached the art of basket weaving with a very lighthearted feeling. Then an old craftsman living in a mountain village taught me the history behind the baskets he made. As I held his baskets in my hands, I began to gain a deeper understanding of the real depth of their meaning. In my search, I asked so many questions—why were they made? what is it that is so special about their shape, and was I unable to handle the bamboo strips with ease no matter how hard I tried or how long I practiced? I discovered that it takes more than technical skill to make a basket. Though I struggled for so long to form the bamboo ribbons into the beautiful shapes of the iriko baskets, at last I realized that, like a prayer, the force that shapes the bamboo ribbons has to come from the heart. The baskets I make are true to the original functional form, though they are no longer used for their original purpose. Whether or not they are used today as serving baskets or for flower arrangements, I believe I have found new meaning in creating these baskets. The significance lies in the actual decision to continue making them as a way of life. At last I am able to weave a basket from my heart."